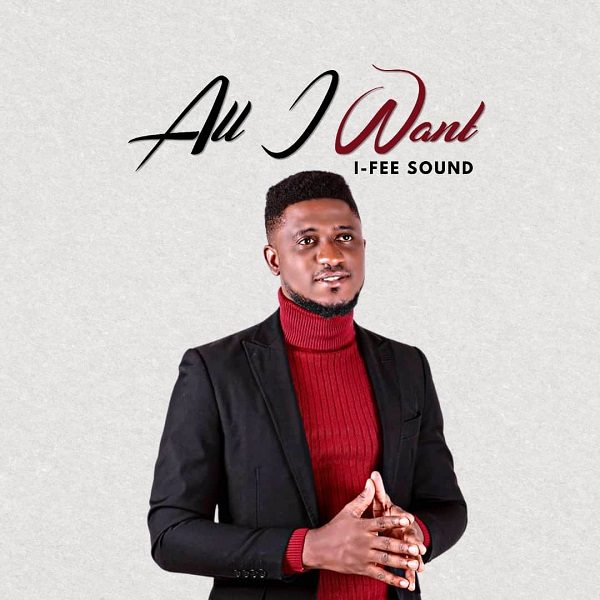 Recording artiste, worship leader and audio engineer I-Fee Sound returns with a second single 'All I Want'. This single comes after the release of the prophetic single 'I Can Never Fail'.
The essence of fellowshipping with God is to know Him better. As we spend time daily in His presence through the word and prayer, we begin to transform, His person and personality starts to rob off on us and that is how we gradually become like Him.

All I Want is a song born out of pure desire and hunger for more of God. I pray as you listen, your love for God will be rekindled. The song is off a series of records ministered live at the live recording in Abuja Nigeria.
Watch Video & Download Audio Below;
Stream & Download Audio Below;
Lyrics: All I Want By I-Fee Sound
[Verse]
I want to see you
To gaze upon Your glory
Just to hear You
Speak to me as Your friend
I want to know Your way, want to see Your face
To behold Your majesty
I want to know Your way, want to see your face
To behold Your majesty
[Chorus]
You are all I want
You are all I need
You are everything to me
With You I want to be
You are all I want
You are all I need
You are everything I want to be
[Verse]
I want to see you
To gaze upon Your glory
Just to hear You
Speak to me as Your friend
I want to know Your way, want to see Your face
To behold Your majesty
I want to know Your way, want to see your face
To behold Your majesty
[Chorus]
You are all I want
You are all I need
You are everything to me
With You I want to be
You are all I want
You are all I need
You are everything I want to be
[Bridge]
Lord Jesus draw me nearer
I want to be closer
Take me deeper
I want to be rooted
Jesus draw me nearer
I want to be closer
Closer than ever before
[Chorus]
You are all I want
You are all I need
You are everything to me
With You I want to be
You are all I want
You are all I need
You are everything I want to be