[Video] There Is A Place By Nathaniel Bassey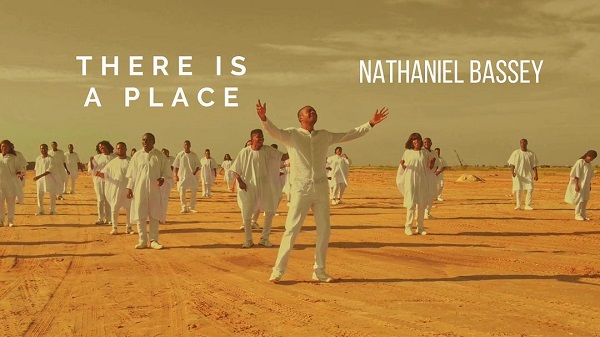 Vibrant Gospel music minister, songwriter and worshipper, Nathaniel Bassey has released a new music video titled - "There Is A Place".
According to him, this video will ignite a passion in your heart for GOD'S presence.
Nathaniel Bassey's new sound is a follow up of his previous songs that is still blessing the world including 'Righteous One', 'So Good', 'I Remember' and 'Hungry for You'.
'There Is A Place' video was directed by EnMan
Watch Video Below;
Lyrics: There Is A Place By Nathaniel Bassey
There is a place
That I love to dwell
It's the presence of my Father
All the host of Heaven gather
Worshiping, bowing down before Him . (2x)
I know a place (I know a place)
That I love to dwell (that I love to dwell)
It's the presence of my Father
All the host of heaven gather
Worshiping, bowing down before Him
Holy, holy (holy, holy)
Holy, holy (holy, holy)
Holy, holy (holy, holy)
Holy, holy (holy, holy)
Holy, holy (holy, holy)
Singing holy, holy (holy, holy)
Holy, holy (holy, holy)
Holy, holy (holy, holy)
I know a name (I know a name)
That's full of grace (that's full of grace)
He is the name above all others
Jesus Christ the Lion of Judah
We worship Him, bowing down before Him
Ehh, I know a name (I know a name)
That's full of grace (that's full of grace)
He is the name above all others
Jesus Christ the Lion of Judah
We worship Him, bowing down before Him
Hallelujah (Hallelujah)
Hallelujah (Hallelujah)
Hallelujah (Hallelujah)
Hallelujah (Hallelujah)
Hallelujah (Hallelujah)
Hallelujah (Hallelujah)
Oh, sing Hallelujah (Hallelujah)
Hallelujah (Hallelujah)
Holy, holy (holy, holy)
Oh, You are holy (holy, holy)
Only You are holy (holy, holy)
Holy, holy (holy, holy)
You are holy Lord (holy, holy)
Lamb upon the throne (holy, holy)
Holy, holy (holy, holy)
Holy, holy (holy, holy)
There is a place (there is a place)
That I love to dwell (that I love to dwell)
It's the presence of my Father
All the host of heaven gather
Worshiping, bowing down before Him
Let the trumpet sound
There is a place (there is a place)
I love to dwell (that I love to dwell)
It's the presence of my Father
All the host of heaven gather
Worshiping, bowing down before Him
I know a place (I know a place)
That I love to dwell (that I love to dwell)
It's the presence of my Father
All the host of heaven gather
Worshiping, bowing down before Him
(They cast their crown, they bow their knees)
Worshiping, bowing down before Him (and worship the King of kings)
(The Lord strong and mighty and mighty and powerful)
Worshiping, bowing down before Him
Oh-oh-oh-oh-oh-oh-oh-oh-oh-oh
Oh-oh-oh-oh-oh-oh-oh-oh-oh-oh
Oh-oh-oh-oh, oh-oh-oh-oh-oh-oh-oh-oh-oh
Oh-oh-oh-oh, oh-oh-oh-oh-oh-oh-oh-oh-oh
Oh-oh-oh-oh, oh-oh-oh-oh-oh-oh-oh-oh-oh
Oh-oh-oh-oh, oh-oh-oh-oh-oh-oh-oh-oh-oh