Paul & Silas (At Midnight) By Naomi Raine Ft. Chandler Moore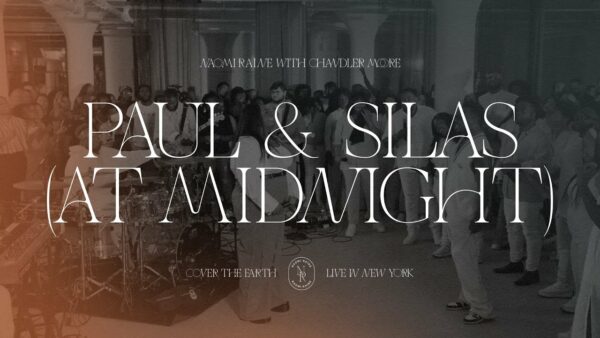 Five times GRAMMY-winning vocalist Naomi Raine teams up with Chandler Moore on her new single "Paul And Silas (At Midnight)." It's the latest from Raine's forthcoming debut live album Cover The Earth (due 6.2 via TRIBL Records).
Showcasing the breathtaking vocals and versatility from Raine and Moore, "Paul And Silas (At Midnight)" is a reminder that joy can be found even in the darkest moments of life. The track blends convicting, traditional gospel sounds with contemporary and world music, and it's an extension of the transcending style the two are known for as part of Maverick City Music.
Watch Video Below;
Lyrics: Paul & Silas (At Midnight) - Naomi Raine Ft. Chandler Moore
[Verse 1: Chandler Moore]
And at midnight
Paul and Silas prayed inside that prison
Singing hymns to God, the prisoners listened
Little did they know what would come next, oh
All of a sudden
The earth began to quake, and the foundation
Of that jail began to shake
The door flung open
The chains of all the prisoners came loose
[Pre-Chorus: Chandler Moore]
So don't tell me what praise cannot do
The sound of our faith makes the mountains move
[Chorus: Chandler Moore]
And I'm not waiting 'til the morning
I will worship You right now
No, I'm not waiting 'til the morning
Oh, I will worship
[Verse 2: Naomi Raine]
In your midnight
When the thoughts are building up just like a prison
Don't forget your song, the Father's listening
To еvery melody and evеry word
This is the breakthrough
What if God is doing something brand new
There are other people coming with you
And freedom is the door we're walking through
Oh-oh
[Pre-Chorus: Naomi Raine & Chandler Moore, Naomi Raine]
So don't tell me what praise cannot do
The sound of our faith makes the mountains move
Let's build Him a home with our praise
For nothing can hold back the Father's grace
Oh-oh-oh-oh
[Chorus: Chandler Moore]
Say (I'm not waiting 'til the morning)
I will, I will (I will worship You right now)
I'm not gonna wait 'til the morning
(I'm not waiting 'til the morning)
I will worship You right now, hey
(I will worship You right now)
I'm not gonna wait 'til the morning
(I'm not waiting 'til the morning)
I will, I will, I will (I will worship You right now)
I'm not waiting (I'm not waiting 'til the morning)
'Cause I will worship You right now (I will worship)
[Interlude: Chandler Moore]
Yeah yeah, yeah yeah, yeah yeah
I'm not gonna wait another minute (No no, no no no)
'Cause You're worthy right now
[Spontaneous: Chandler Moore]
So why wait
When the praise is happening now? I won't wait
I won't let a rock cry out in my place
You've been too good to wait
He's been too good to hold my praise
So why wait (Why wait)
When the praise is happening now? (When the praise is happening now)
Say, I won't wait
I won't let a rock cry out, say (I won't let a rock cry out)
In my place
He's been too good to wait (He's been too good to wait)
He's been too good to hold (He's been too good to hold my praise)
Why wait (Why wait)
When praise is happening now? (When the praise is happening now?)
Hold up (Won't wait)
Won't let a rock cry out (Won't let a rock cry out)