[Video] When I See You By Dunsin Oyekan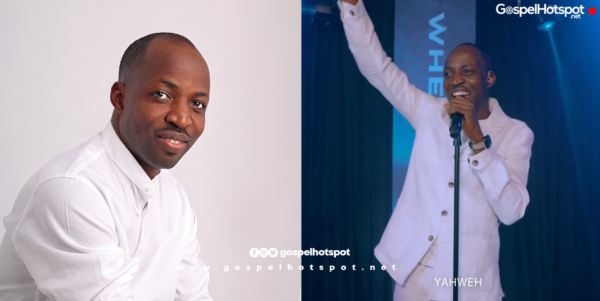 Nigerian gospel music minister, Dunsin Oyekan, has delivered yet another impactful musical experience to his audience with the release of the official music video for his song, "When I See You".
As a highly respected Nigerian gospel musician, Dunsin Oyekan urges listeners to make this song their love song to God during this season of love, emphasizing God's everlasting love and kindness towards his people.
"When I See You" is the third track in the newly released project called, 'The Birth Of Revival'. Whether you're a Dunsin fan or not, "When I See You" is certain to move and inspire you to love Jesus.

Watch The Video & Download Audio Below;
Stream & Download Audio Below;
Lyrics: When I See You By Dunsin Oyekan
Oh Oh Ooh, Oh Oh Ooh
[Verse]
I Wonder what
I Wonder how I will Feel
When I see You
I see You
Face to Face
I Wonder how
I Wonder what I will do
When I see You
I see You Face to Face
[Pre – Chorus]
One thing is Sure
A Stream will Flow out of me
Deep will Call unto Deep
Inside of me
[Chorus]
Yahweh,
this is what I'll do
When I see You Face to Face
Then I Better Start it Now
Yahweh,
Worship is what I'll do
When I see You Face to Face
Then I Better Start it Now
[Verse]
I Wonder what
I Wonder how I will Feel
When I see You
I see You
Face to Face
I Wonder how
I Wonder what I will do
When I see You
I see You Face to Face
[Pre – Chorus]
One thing is Sure
A Stream will Flow out of me
Deep will Call unto Deep
Inside of me
[Chorus]
Yahweh,
this is what I'll do
When I see You Face to Face
Then I Better Start it Now
Yahweh,
Worship is what I'll do
When I see You Face to Face
Then I Better Start it Now
Yahweh,
this is what I'll do
When I see You Face to Face
Then I Better Start it Now
Yahweh,
Worship is what I'll do
When I see You Face to Face
Then I Better Start it Now
[Bridge]
I'Il be Praising, I'll be Singing
I'Il be Dancing
When I See You,
When I See You
I'Il be Praising, I'll be Singing
I'Il be Dancing
When I See You,
When I See You
What a day of Joy
It will be
When I see my Lover
Face to Face
I'Il be Shouting, I'll be Leaping
I'll be Clapping, I'll be Shouting
I'Il be Dancing
When I See You,
When I See You
I'Il be Praising, I'll be Singing
I'Il be Dancing
When I See You,
When I See You
I'Il be Praising, I'll be Singing
I'Il be Dancing
When I See You,
When I See You
I'Il be Praising, I'll be Singing
I'Il be Dancing
When I See You,
When I See You
I'Il be Praising, I'll be Singing
I'Il be Dancing
When I See You,
When I See You
I'Il be Praising, I'll be Singing
I'Il be Dancing
When I See You,
When I See You
I'Il be Praising, I'll be Singing
I'Il be Dancing
When I See You,
When I See You
I'Il be Praising, I'll be Singing
I'Il be Dancing
When I See You,
When I See You
I'Il be Praising, I'll be Singing
I'Il be Dancing
When I See You,
When I See You
[Chorus]
Yahweh,
this is what I'll do
When I see You Face to Face
Then I Better Start it Now
(When I See my Lover
I will Sing for Him)
Yahweh,
Worship is what I'll do
When I see You Face to Face
Then I Better Start it Now
(When I See my Lover
I will Dance for Him)
Yahweh,
this is what I'll do
When I see You Face to Face
Then I Better Start it Now
(When I See my Lover
I will Sing for Him)
Yahweh,
Worship is what I'll do
When I see You Face to Face
Then I Better Start it Now
(When I See my Lover
I will Dance for Him)
Yahweh,
this is what I'll do
When I see You Face to Face
Then I Better Start it Now
[Bridge]
I'Il be Praising, I'll be Singing
I'Il be Dancing
When I See You,
When I See You
I'Il be Praising, I'll be Singing
I'Il be Dancing
When I See You,
When I See You
I'Il be Praising, I'll be Singing
I'Il be Dancing
When I See You,
When I See You
I'Il be Praising, I'll be Singing
I'Il be Dancing
When I See You,
When I See You
I'Il be Praising, I'll be Singing
I'Il be Dancing
When I See You,
When I See You
I'Il be Praising, I'll be Singing
I'Il be Dancing
When I See You,
When I See You
[Chorus]
Yahweh,
this is what I'll do
When I see You Face to Face
Then I Better Start it Now
Oh Oh Ooh, Oh Oh Ooh
Oh Oh Ooh, Oh Oh Ooh
[Bridge]
I'Il be Praising, I'll be Singing
I'Il be Dancing
When I See You,
When I See You
I'Il be Praising, I'll be Singing
I'Il be Dancing
When I See You,
When I See You
I'Il be Praising, I'll be Singing
I'Il be Dancing
When I See You,
When I See You
I'Il be Praising, I'll be Singing
I'Il be Dancing
When I See You,
When I See You
I'Il be Praising, I'll be Singing
I'Il be Dancing
When I See You,
When I See You
I'Il be Praising, I'll be Singing
I'Il be Dancing
When I See You,
When I See You
I'Il be Praising, I'll be Singing
I'Il be Dancing
When I See You,
When I See You
[Chorus]
Yahweh,
this is what I'll do
When I see You Face to Face
Then I Better Start it Now
(When I See my Lover
I will Dance for Him)
Yahweh,
Worship is what I'll do
When I see You Face to Face
Then I Better Start it Now