First Class Monarch & Pastor Welcomes Second Child After 30 Years Of Waiting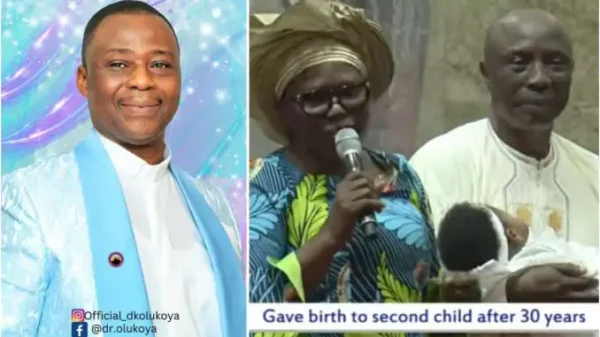 After three decades of waiting, a couple from the Mountain of Fire and Miracle Ministries (MFM) welcomes their second child. Pastor Daniel Olukoya shared the couple's joyous testimony on his social media page, praising God for the miraculous blessing.
The couple had their first daughter 30 years ago and were still holding out hope that they would be blessed with more children. After faithfully waiting over the years, their prayers have finally been answered with a beautiful baby girl.
The elder sister who is now a medical doctor, will no doubt provide guidance and love to her younger sibling.
Pastor Olukoya and his wife also celebrated with the family, sharing the good news with their followers.
Pastor D.K Olukoya share the video on his official Facebook page with the caption "We rejoice with this glorious family, who is a king. Along with his wife, they testified of how God blessed them with a baby girl after their first child. To God's glory, they now have a baby girl after 31 years of waiting. Praise the Lord."
Watch The Full Video Below;