[Music + Lyrics] I Am Victorious By Prince Promise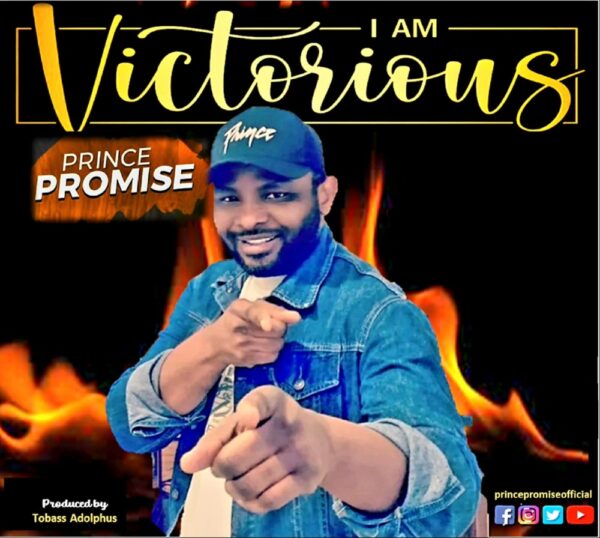 UK-based Nigerian Gospel music minister and worship leader, Prince Promise, is out with his new single titled "I Am Victorious."
According to the worship leader, his new afrobeat praise dancehall single is divinely crafted to aid a nonstop dance as you celebrate and jubilate with thanksgiving for what the Lord has done.

Prince Promise is a gospel artist and songwriter used by God to lead men into His presence through worship. I Am Victorious is produced by Tobass Adolphus.
Stream & Download Audio Below;
Lyrics: I Am Victorious By Prince Promise
[Verse]
The Lord has answered my prayer He has blessed me once again
I am victorious praises to his name oo
The Lord has answered my prayer He has blessed me once again
I am victorious praises to his name
I say Victory, Hallelujah (4x)
Eh aa Victory, Hallelujah
I believe I believe
[Chorus]
I am Victorius
Praise the Lord
He has done me well
Praise the Lord
I am a winner oo
Praise the Lord
I am a champion oo
Praise the Lord
Yea I say
Praise the Lord
Praise the Lord
I Say,
Praise the Lord
I say, I say
Praise the Lord
[Verse]
Trumpet (I am Victorious) 2x
Repeat Chorus
I am Victorious
I am victorious
I say Victory, Hallelujah (4x)
Eh aa Victory, Hallelujah
Bridge:
It is time for prophetic declaration of what will follow you all the days of your life
Let's go
Goodness and mercy o
Follow me
A say dominion o
Favour and grace o
I say better life o
I say
Follow me
I say
Follow me 4x
I believe, I believe
Follow me (2x)
Congratulations
Follow me
finally Good health oooo
Follow me
I say
Follow me
Follow me , 6x
Follow you, 6x
Follow me 2x
Shout Hallelujah
Make some noise 2x
Shake your body 4x
put your hands in the air
Put your hands and praise the Lord, Lift your hands and praise the Lord
Shake your body 4x
Bend low 5x (2x)
He has given me victory
I go dance, I go celebrate
He has given me victory
I go dance I go testify
E e e e e e
I am Victorious