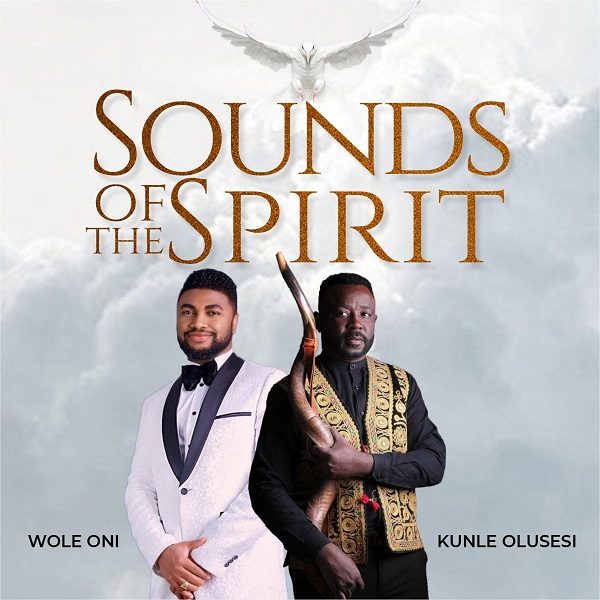 San Francisco, CA - Gospel artistes - Kunle Olusesi & Wole Oni collaborate on a brand new single titled - "Sounds Of The Spirit" in the gospel genre, produced by multiple award-winning producer - Ambassador Wole Oni.


The new single and original composition - "Sounds of the Spirit" is a clarion call with tongues and groanings in the spirit to usher you into the eternal presence of God. It is a timeless masterpiece for a diverse audience of prayer, worship, and meditation.
The backstory: The song was birthed on Christmas evening 2021 in Los Angeles, California during a soundcheck while on their Christmas tour.
The Holy Spirit filled the room and saturated the atmosphere. Wole & Kunle was caught up in the spirit as they worshipped and magnified God with their respective instrument's shofar, saxophone, piano, synth, and Shofar/Hallelujah chants as an eternal victory.
Wherever the duo ministered this song since the conception, the audience are slain in the spirit hence the song title "Sounds of the Spirit".


After the experience they were more aware that this song is an invitation from the Lord to commune with us in a supernatural way, as the sound pierces the heart of listeners to the core and produces an intense spiritual awakening.
The harmony of the wide array of instrumentations, leaves the audience uplifted and craving for more of the Lord's presence. The duo has been around in the music industry from their extensive career profiles.
Brief About Wole Oni
Wole Oni is a Nigerian born sophisticated, multi-international award-winning worship leader, music producer extraordinaire, synthesizer, programmer, multi-instrumentalist, scriptwriter, songwriter, director, and sound engineer.
He is the founder and CEO of Instinct Productions and Wole Oni Music Productions (WOMP). Presently, he is the Yamaha ambassador to Africa, also a Yamaha consultant.
He contributed to the style and sound of the first keyboard in the world to have IYA ILU, TALKING DRUM and BATA, PSR SX 900 (Yamaha). He is also the United Nations Peace and Youth Ambassador.
With several top artistes in his list, he has produced over one thousand five hundred artistes and over ten thousand songs. He has frequently appeared on TV series of Talent Hunt shows as one of the judges.
Brief About Kunle Olusesi
Kunle Olusesi is a prophetic Shofar minister and a faith-rooted saxophonist. He is anointed and equipped to blow the ancient Jewish worship instrument, the Shofar, which he uses to awaken the body of Christ and unto the very ends of the earth.
He declares the revelation of the power of sound to heal, to deliver, and to set people free, and when he blows the traditional notes "Tekiah, Shavarum, Teruah and Tekiah Gedolah" in gatherings, it is done so as evidence of God's power.
Kunle is married with children and lives in San Francisco, CA with his family.