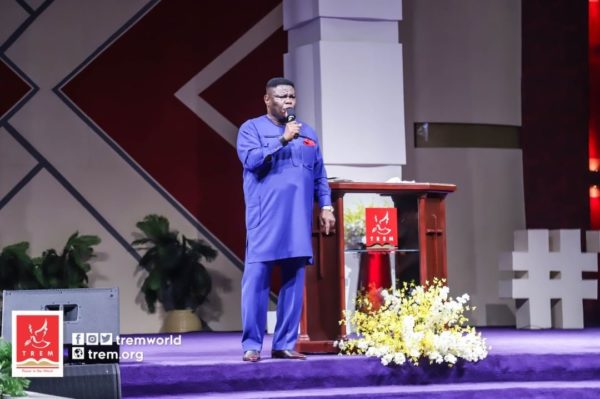 Wisdom For The Day Devotional 8 April 2022 By Bishop Mike Okonkwo – Sow The Word
TOPIC: Sow The Word (TREM Devotional 8 April 2022)
"The sower sows the word." Mark 4:14 (NKJV)
The Word of God is like a seed. Every believer is called to be seed sower. As seed sowers the Word of God is our seed. The Word of God is what we sow. Every time you speak God's word, you are sowing seed. Every time you read God's word, you are receiving seed into your spirit, the seed that will produce after its kind.
The Word of God is incorruptible! And because it is incorruptible what is sown must produce. "Being born again, not of corruptible seed, but of incorruptible, by the word of God, which liveth, and abideth, forever". (1 Peter 1:23 KJV). This is why every believer should be an addict of the Word of God. Every time you read the bible and you see what God has said concerning you, don't be intimidated to say it.
You are who the Word of God says you are. You are the righteousness of God in Christ. You are a new creation! Old things have passed away and all things have become new. You cannot fail! You are more than conqueror. You can do all things through Christ who strengthens me. You are born of God. You have a world overcoming faith residing on the inside of you. Greater is He that is in you, than He, that is in the world. Christ has redeemed you from the curse of the law. He has been made a curse for you, so that the blessing of Abraham might come upon you through our Lord Jesus Christ.
Always declare what the Word says concerning you. That is how to become a seed sower. And God's Word will never return void. It must produce! "So shall my word be that goeth forth out of my mouth: it shall not return unto me void, but it shall accomplish that which I please, and it shall prosper in the thing whereto I sent it." (Isaiah 55:11 KJV).
Any time you speak the Word into your life, you are sowing the incorruptible seed that will produce after its kind. The Word is already settled in heaven. It is established! Nothing can change it. It cannot be rigged out. And it cannot be violated.
Further reading:
Mark 4: 1-20
Daily Bible Reading:
Morning – 1 Samuel 10-12,
Evening – Luke 9:37-62
DAILY CONFESSIONS: APRIL 3RD– APRIL 9TH
I delight myself in the Lord and He gives me the desires of my heart. There is no lack, for my God supplies all of my needs according to His riches in glory by Christ Jesus. (PS 37:4, Philippians 4:19)
The Lord has made me a blessing; I am blessed going out and blessed coming in. He will cause the shower to come down in its season. There shall be showers of blessing. The trees of my field will yield their fruit and the earth shall yield her increase. And I shall be safe in the land. I shall lay-up gold as dust and as the stones of the brook. Yea, the Almighty shall be my defense and I shall have plenty of silver (Deuteronomy 28:6, Levi 26:4, Job 22:24-25)
Every day, and in every way, I am getting better: spiritually, physically, financially, mentally, morally, and in all my endeavor.
I am called for a purpose. I will fulfill this purpose and I will arrive at God's ordained destiny for my life. Nothing will cut me short. I will make a formidable impact in my world for the Kingdom.
Wisdom For The Day Devotional was Written by Dr. Mike Okonkwo; Is the Presiding Bishop of The Redeemed Evangelical Mission (TREM); a versatile man of God with over 30 years of dedicated service unto the Lord.