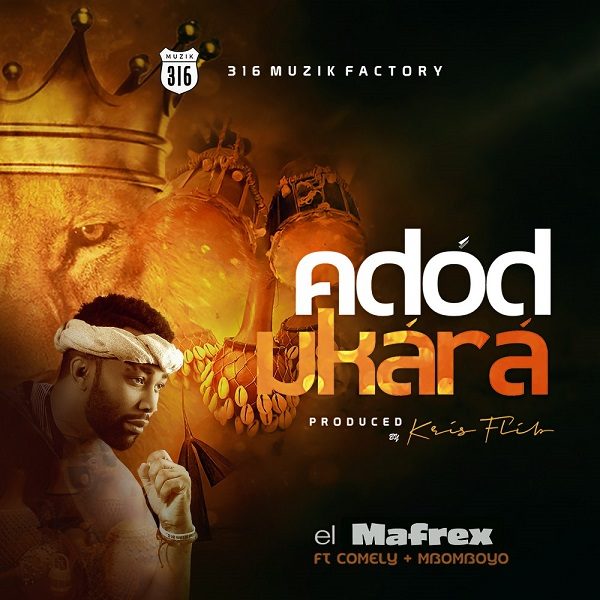 Gospel singer, El Mafrex unwraps a new song tagged "Adod Ukara" meaning "Worthy to Rule" produced by Kris Flib.
Adod Ukara, which translates to "Worthy to Rule," is sung in his native Ibibio dialect. It features gospel singer Mbomboyo bringing the Anang lyrics and Comely adding the Oro flavor.
Adod Ukara will lift your spirit and inspire your David dance. It is inspired by Revelations 6: "Do not weep! See, the Lion of the tribe of Judah, the Root of David, has triumphed," [and] with his blood has he purchased people from every tribe and language.
Spirit-filled, thrilling, exciting, and energetic, Adod Ukara is a praise anthem for people who want to let go, let loose, and praise God with all their might; this includes people who do not understand his native dialect. In El Mafrex's words, "Sometimes, the spirit of God hits you hard and the only way you can express that feeling is in your native language, with the native drums, and with your native dance." "It is like going back to where you first found God," he adds. He hopes that listeners would remember that moment and dance like they are finding God for the first time. In addition, El Mafrex hopes this song will showcase the beauty, the culture, and the welcoming worship atmosphere of his people.

Remember that after the release of his last album, "Who am I," El Mafrex seemed to be missing from the music scene. During this period of hiatus, God helped him recover from surgery. He has spent his time praying, meditating, and preparing for where God is taking him and is now ready to share with the world all God has deposited in him.
Stream & Download Audio Below;
Lyrics: Adod Ukara By El Mafrex Ft. Mbomboyo & Comely
[Verse 1] Ibibio
Ekpe ekpe - Essien Judah o
Ananiso ananan bied, uteng eh-kondo
Ebib mme anie kpi kan - mkpa ye udi o
Abasi Ibom - sai - ibagha awo si ba nte enye
Ami mmoyom, mmoyom ke ofri ekondo
Abasi uko, afo ikpong aka-Kara ere-rimbod
Afid awo edian uyo, IBIBIO, ORO, ANNANG o
EKPENEBO, UKANAFUN, ofri ikpa isong
Ntok iden etama mkpasa,
Ntok iban enek unek itak isin
Ikpor awo edian uyo, esio mkpo
Yak itomo Abasi Ibom.
[Pre-chorus]
Oh oh oh oh ah
Eh eh eh eh ah (x2)
Jehovah Shammah eh
Adod ukara
Jehovah Nissi eh
Adod ukara
Jehovah anyangha awo mmm
Adod ukara
Eh eh eh eh eh
Adod ukara

[Chorus]
Adod ukara (x15)
[Verse 2] Oro
Okpi
Offong Isong Oro
Sia onyi onu Offong ima Offong
Oron
Okoboho
Mbo
Urue Offong Oruko
Udung elakela ekwo ma mio
Orukpono (x7)
Namukwo uno ofu onyong mi isong
Nsi onu udu ofu
Ubabang enieguneg ma mio
[Pre-chorus]
Oh oh oh oh ah
Eh eh eh eh ah (x2)
Jehovah Shammah eh
Adod ukara
Jehovah Nissi eh
Adod ukara
Jehovah anyangha awo mmm
Adod ukara
Eh eh eh eh eh
Adod ukara
[Verse 3] Annang
Se ema eke gwe gwed
Tutu adorobot abe afeb
Ajid ami ema emek
Na itoro Awasi Edisana Nwed
Anye ade Awasi Ibom Anyong
Anye adod eno
Mkpon mme ntuk
Iben ijak ino
Etamma mkpasa
Eno mbang o
Saa anye ikpong adod ukara
Ekpe ama sanga mme afo
Da ufon nsanga nche Elem itiehe
Che enam ke anyone ke enam mi o
Ukara adod anye ke afara
Ajid ina ikwo ikwo o oh
Ajid ina inek unek o oh
Itamma mkpasa aaah