TREM Devotional 15 March 2022 By Bishop Mike Okonkwo – You Are In His Thought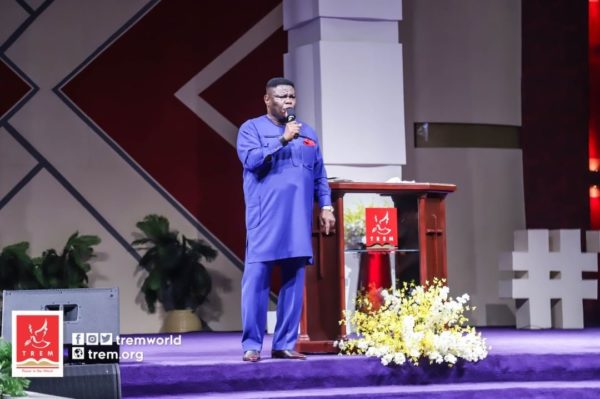 TOPIC: You Are In His Thought
"But I am poor and needy; yet the Lord thinketh upon me: thou art my help and my deliverer; make no tarrying, O my God.'' Psalm 40:17 (KJV)
Many believers walk as if God thinks only about them occasionally, that is why God is usually the last resort when they are faced with challenges. Many treat God as a spare tyre, who do you go to when all else has failed. But that should not be the case. God loves you and He is constantly thinking about you 24/7.
How will it grab you if you know that the Emperor and Monarch of the universe have you every time in His mind? I am not saying some time or many times or most times, but ALL THE TIME. I am sure you will be very excited, and you will walk tall as you go about your daily chores. Can I tell you boldly that He thinks about you? I mean He thinks about you every day. You are in His mind. Nothing about you is too small to get His attention. He is very concerned about you to the minutest details. Nothing about you escapes Him. That is the truth.
In Luke 12:6-7 He said that if none of the sparrows is forgotten, how can He forget you that He paid the supreme price for. You were not bought with silver or gold or any other precious metal or the blood of the most expensive animal. He paid the supreme price Himself just for you. That is how important you are.
Psalm 8:4 says that His mind is full of you. He is therefore favorably disposed to dispense good to us in all areas of our lives. No matter what challenges you may be facing, be assured that because you are in His thoughts, He has you very well covered. All is well.
Walkout today knowing that God's mind is full of you. It will boost your confidence to face today's challenges. Walk tall, square up your shoulder, let nothing cower you because God is with you and He thinks about you. He has you all covered.
Further Reading:
Psalm 8, Psalm 40.
Daily Bible Reading:
Morning – Deuteronomy 22-24;
Evening – Mark 14:1-26
Written by Dr. Mike Okonkwo; Is the Presiding Bishop of The Redeemed Evangelical Mission (TREM); a versatile man of God with over 30 years of dedicated service unto the Lord.