[Music + Lyrics] T.O.P By Vivian Agbamuche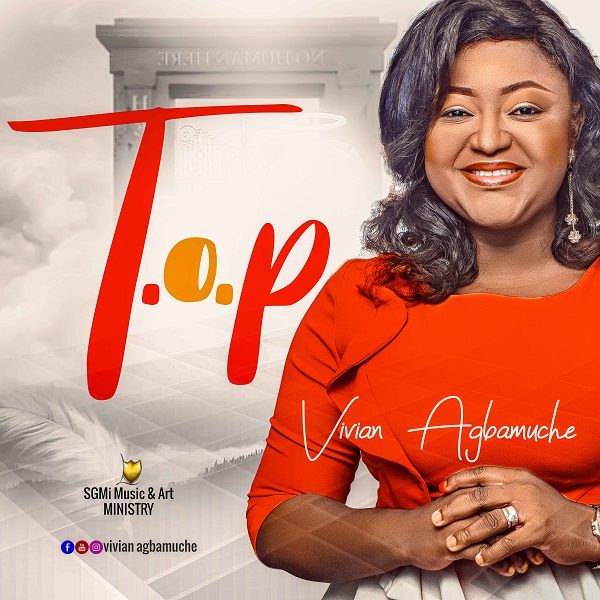 Pastor Vivian Agbamuche an outstanding preacher of the gospel of Christ, A music Minister and coach, the Director of the ever inspirational team Worship Club.
After her first Album" Awesome God" Decides to begin the year with this Revelation filled sound T.O.P.. simply put "On The Top". The song reveals the placement and position of believers. We are seated far above and there's no coming down for the man in Christ.

Stream & Download Audio Below;
Lyrics: T.O.P. By Vivian Agboamuche
Can I see you jam your hands together for Jesus!
The Glory of the Lord is upon my life
Making me to do the impossible
The Spirit of the Lord is at work in me
I'm loaded with so much ability
The Glory of the Lord is upon my life
Making me to do the impossible, impossible
The Spirit of the Lord is at work in me
I'm loaded with so much ability

'Cause where I stay is far above all
Principalities and power
There's never a downward with me
I am seated
On the T.O.P
and there's no coming down
I'm on the T.O.P
and there's no coming down
I'm on the T.O.P
and there's no coming down
I'm on the T.O.P
and there's no
No coming down
The Glory of the Lord is upon my life
Making me to do the impossible (Impossible,The Spirit of the Lord)
The Spirit of the Lord is at work in me (Oh,Oh,Oh, Uh, Oh, Oh)
I'm loaded with so much ability
(The Glory of the Lord)
The Glory of the Lord is upon my life (Upon my life, making me)
Making me to do the impossible, impossible
The Spirit of the Lord is at work in me (At work in me yeah, yeah)
I'm loaded with so much ability
(Where I stay)
'Cause where I stay is far above all
(Principalities and powers)
Principalities and power
(There's never a downward with me, Oh Uh oh oh oh, oh, oh, oh)
There's never a downward with me
I am seated
On the T.O.P
and there's no coming down
I'm on the T.O.P
and there's no coming down
(I'm on the, I'm on the)
I'm on the T.O.P (Top, Top)
and there's no coming down
I'm on the T.O.P
and there's no
no coming down
No coming down
No coming down
No coming down
(Oh yeah, we're seated with you far above principalities and powers)
I'm seated with the King in Glory
I'm seated with the King in Glory
I'm seated with the King in Glory
I'm seated with the King in Glory
(Where are you seated)
I'm seated with the King in Glory
(Where are you seated)
I'm seated with the King in Glory
(Hey, Top, Top)
I'm seated with the King in Glory
(Top, Top)
I'm seated with the King in Glory
(I am)
I'm seated with the King in Glory
(I am)
I'm seated with the King in Glory
I'm seated with the King in Glory
I'm seated with the King in Glory
(I'm seated with the King far above all principalities and power)