Tephilah Ministries Presents End Of Year Praise & Carol Night 'Stone Of Help'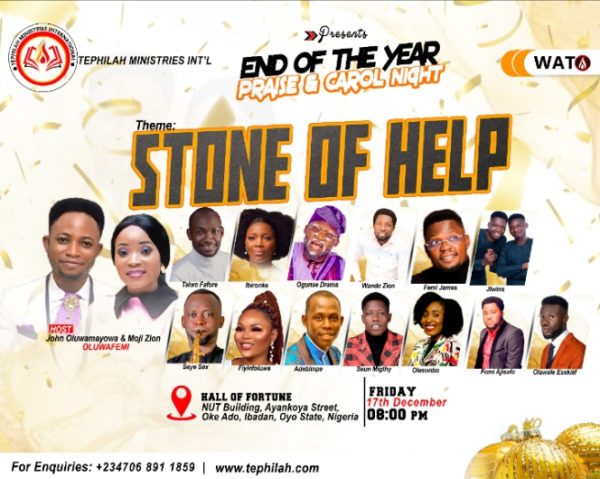 In recent times there has been a rising number of Christian events which have been organized to give Christians an outlet to go hang out and have Godly fun.
For Christians looking to hang out with fellow believers especially in the city of Ibadan, Tephilah Ministries International is organizing an End of Year Praise/Carol Night tagged "Stone Of Help."
The event which is hosted by the founder of Tephilah Ministries International, Pastor John Olumayowa and Moji Zion promises to be one for the books. With a plethora of Christian artists and performers such as Taiwo Fafore, Ibironke, Ogunse Drama, Wande Zion, Femi James, Seun Mighty amongst others Stone of Help is sure to be a blast.
Tephilah Ministries International who are the organizers of the special monthly program WATO which stands for Words And Tongues Only has the vision to preach the Gospel to every soul and win them for Christ and they are leaving no stones unturned to achieve that vision.
Stone of Help will hold on the 17th of December at the Hall of Fortune, NUT Building, Ayankoya street, Oke Ado, Ibadan, Oyo State. and the time is 8:00 pm.