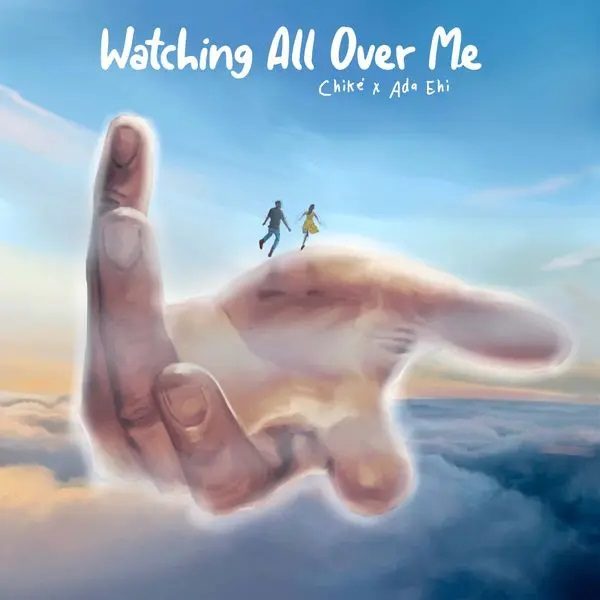 Chike has some good news for gospel music lovers and it's a new sound tagged, "Watching All Over Me."
Chike joins studio forces with one of Nigerian Gospel lynchpins, Ada Ehi who made her stay worthwhile in the booth. She added her trademark vocals on the jam, "Watching All Over Me" and it made it look more catchy and electrifying in the cochlea.
Good to know that "Watching All Over Me" featuring Ada Ehi talks about the gospel of gratefulness; as 2021 comes to a conclusion, Chike talked about how we have to be appreciate God for longevity and people living in it.
"Watching All Over Me" has some catchy lyrics like:
"I just wanna say 'thank you' to you for watching all over me oh, hey Papa i just wanna say thank you for watching all over me x2, oh Papa i just wanna say thank you for watching all over me, Olise Ebuka"

Stream & Download Audio Below;
STREAM/DOWNLOAD ON DIGITAL STORES
Lyrics: Watching All Over Me By Chike Ft. Ada Ehi

Intro – Chike
Biko gwa m ebe anyi ga-eje without Jehovah
Biko gwa m ife anyi ga-eme without Jehovah
I just wanna say thank you to you
For watching all over me oh
Oh oh oh oh


Chorus – Chike
Eh Papa, I just wanna say thank you
(For watching all over me)
Eh Papa, I just wanna say thank you
(For watching all over me)
Oh, Papa, I just wanna say thank you
(For watching all over me)


Olisa Ebuka, Olisa Ebukalum o
Chukwu bi n'eluigwe
O so so gi na-enedo m o


Eh Papa, I just wanna say thank you
(For watching all over me)
Eh Papa, I just wanna say thank you
(For watching all over me)


Verse 1 – Chike
Biko gwa m ebe anyi ga-eje without Jehovah
Biko gwa m ebe anyi ga-ano without Jehovah
I just wanna say thank you to you
For watching all over me o
I just wanna say that I'm grateful
For fighting all my battles
Uh oh oh, uh oh oh


Chorus – Chike
Eh Papa, I just wanna say thank you
(For watching all over me)
Eh Papa, I just wanna say thank you
(For watching all over me)


Verse 2 – Ada Ehi
If all my body be so so mouth, e no reach o, e no reach o
A si m na ahu niile buru so onu, e no reach o, e no reach o
Jehovah Jireh is chasing after me, he's chasing after me (always)
Your goodness and mercy catching up with me, is catching up with me
Oh uh oh oh, for watching all over me
Oh uh oh oh, I just wanna say thank you for watching all over me


Chorus – Chike and Ada Ehi
Eh papa, I just wanna say… (Thank you)
For watching all over me
Oh papa, I just wanna say (Thank you)
For watching all over me


Bridge – Chike and Ada Ehi
Kene, Kene, Kenelum Olisa m o
Kene, Kene, Kenelum Olisa m o


(Ada)
Olisa onye m ji eme onu
Ekele oma diri gi
For watching all over me
Nara ekele m jiri bia
Olisa Okike
For watching all over me


(Chike)
Kenelum Olisa m o
Olisa cheberum ndu m o
For watching all over me