[Music + Video] Yeshua By Amen Graceful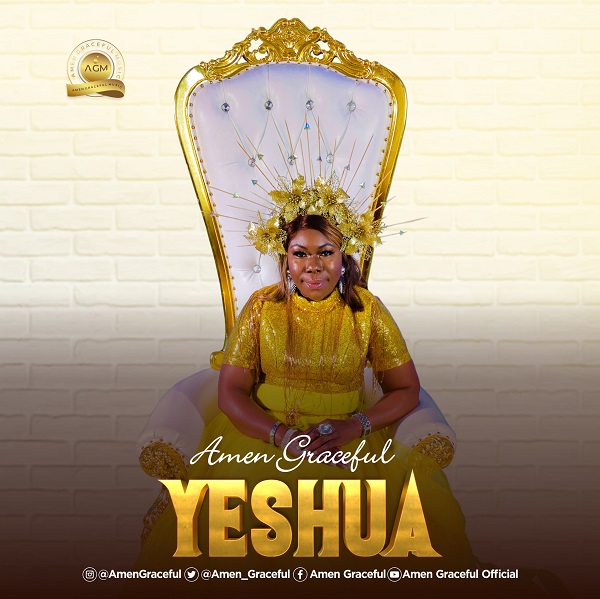 Music minister, songwriter and Gospel recording artiste, Amen Graceful releases a brand new single titled "Yeshua" with a beautiful music video to go with it.
Speaking about the new single, Amen shares: "Through it all I have learnt to always trust in God. I acknowledge that I am who I am by the grace of God. (1st Corinthians 15:10). This song encourages us to always trust in God and believe in his awesome power. He who has Christ has everything."
Watch Video & Download Audio Below;

Stream & Download Audio Below;
Lyrics: Yeshua By Amen Graceful
Lead Chorus:
Yeshua you are enough for me
Yeshua you are my everything oh
Oh Yeshua, Yeshua, Yeshua
Oh Yeshua
You are the Essence for my being
Chorus:
Yeshua you are enough for me
Yeshua you are my everything
Oh Yeshua, Yeshua, Yeshua
Yeshua
You are the Essence for my being
Bridge:
Oh Yeshua
All I have is yours
Oh Jesus
You are more than life to me
Verse:
Your grace is alive in me
With nothing else
You are enough for me
Your love
Is better than life
My God and King
I live to worship you
Iye hey hey
Yeshua all that I have is yours
Am alive today
Is because of you
Oh Yeshua, Yeshua, Yeshua
Oh Yeshua
you are the Essence for my being
Yeshua hey
Chorus:
Yeshua you are enough for me
Yeshua you are my everything
Oh Yeshua, Yeshua, Yeshua
Yeshua
You are the Essence for my being
Chorus:
Yeshua you are enough for me
Yeshua you are my everything
Oh Yeshua, Yeshua, Yeshua
Yeshua
You are the Essence for my being
Chorus:
Yeshua you are enough for me
Yeshua you are my everything
Oh Yeshua, Yeshua, Yeshua
Yeshua
You are the Essence for my being