[Video] Kabiyesi Re - Temitope Bukola Ft. Judah Zubairu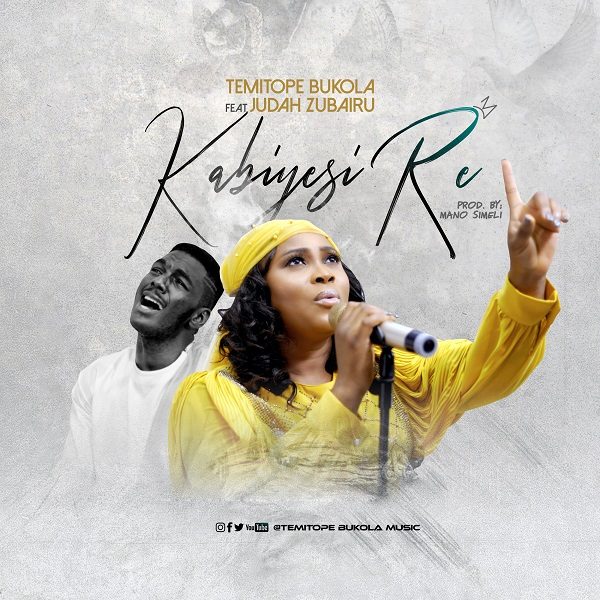 Temitope Bukola features Judah Zubairu in new single and music video titled 'Kabiyesi Re'.
God's word is powerful and filled with faith. Nine times the words, "And God said" appears in Genesis chapter one. Each time God spoke something was created, formed, or made. The worlds came into being, were beautifully coordinated, and now exist by His command.
Kabiyesi Re is a beautiful brand new music video from Nigerian born Prolific Singer and recording artist Temitope Bukola featuring Sierra Leonean Gospel Sensation, Judah Zubairu.
This masterpiece is from her sophomore album project scheduled to be released later this year.
Watch Video & Download Audio Below;

Stream & Download Audio Below;
About Temitope Bukola
Temitope Oluwabukola was born in the city of Lagos, Nigeria as the first of eight children. She hails from Isua Akoko, Ondo state. She discovered her musical inclination in her high school and church at the age of 10 where she had the opportunity to take lead role in songs while in high school. Temitope joined a music band called the sensation girls, where she sang soprano or the group .The group however eventually split up.
Temitope Bukola in pursuit of her degree, proceeded to further her education at Adekunle Ajasin University Akungba, where she badged a degree in Accounting, afterwards she ventured into entrepreneurial activities as a cosmetologist and a makeup artist. She launched again her music career in 2015, when she rebirthed her stage name as"Temitope Bukola ", with the project of a solo debut album project.
She got her first platform on stage in 2014 at the Rare Breed Season Of Worship Concert when she graced the event on stage with her dynamic voice.
As a gospel singer, she inspired all who listened to her. Her soulfully music which is majorly centered on Grace has transformed and evoked a great number of lives positively. Also a song writer, she delineate from all her experiences in life and everything that revolves around her, and from God who is her greatest source of inspiration.

In a short while she is about to release her phenomenal album. The 10 track title album is manifestations of her yearn for God and becoming a source of blessing to all races with her music.
The genre of her music cuts across Afro hip-hop or ethic contemporary gospel. Temitope Bukola is a big dreamer, and she sees herself as a global phenomenon and as well inspiring people of all races both within and outside the sea shore of Nigeria with her music. Temitope Bukola has just release a new hit single titled Kabiyesi Re.