Top 7 Nigerian Gospel Songs Of The Week | August 2021, Week 4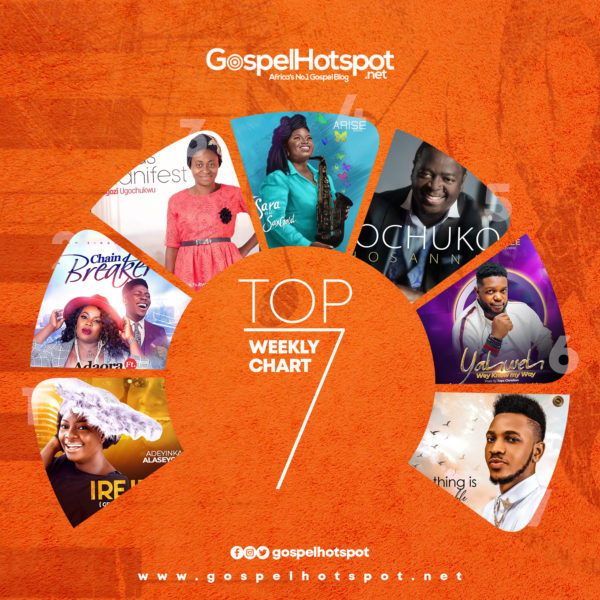 Hello! Here's another edition of Top 7 Nigerian Gospel Songs Of The Week for the fourth and last week of August 2021.
Your favorite Gospel artists have composed these songs, rehearsed them all night, and added lyrics together to release amazing songs that we are about to share.
This week's playlist speciale includes Adeyinka Alaseyori, serving us steadily in the indigenous Yoruba style with her latest tune, "Ire Iran", Churkdee bringing down the presence of Yahweh with his worship song, "Yahweh Wey Know My Way" and lots more.
Enjoy the full playlist of Top 7 Nigerian Songs of the Week for the month of August 2021 below: Note: This list was prepared based on the Digital Downloads & Streams statistics from Gospel Hotspot Server.
7. Nothing Is Impossible – Newpower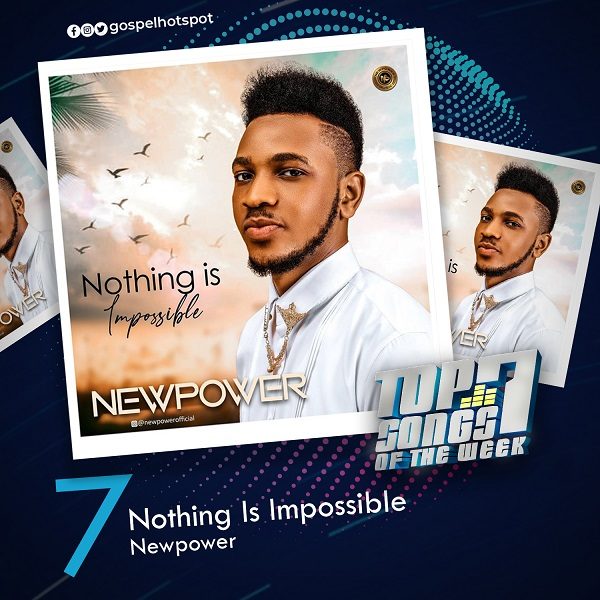 Nigerian gospel artiste and worship leader, Newpower is out with yet another new single "Nothing Is Impossible," accompanied by an expression 'lyric' video. This comes shortly after his well-received "Move of Your Spirit," which dropped about a month ago and is still blessing lives.
"Nothing Is Impossible with You (God)," Newpower reiterates in the uplifting new song as he testifies of God's love and goodness, reassuring listeners that what God cannot do does not exist.
6. Yahweh Wey Know My Way – Churkdee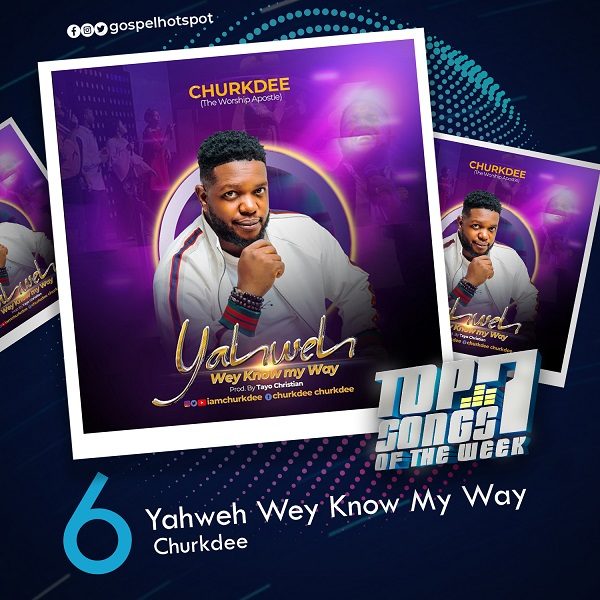 Nigerian gospel music artiste and worship leader, Churkdee (The Worship Apostle) has released his anticipated new single "Yahweh Wey Know My Name".
5. Hosannah – Ochuko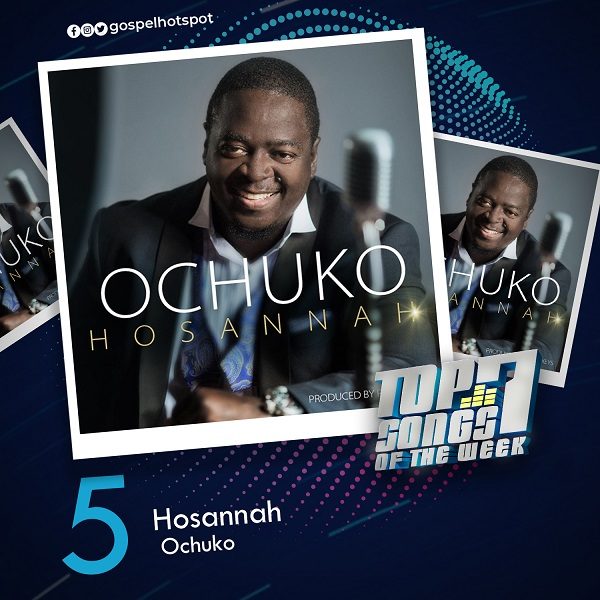 US based Artist & Project Fame Alumni, Ochuko has released the highly anticipated visuals for hit single, "Hosannah", produced by Rotimi Keys.
A Contemporary Song of Praise and Thanksgiving to God, "Hosannah" is a high tempo-groovy praise jam bound to get you on your feet in high praise from the first kick.
4. Arise – TaSara Ft. SaxGold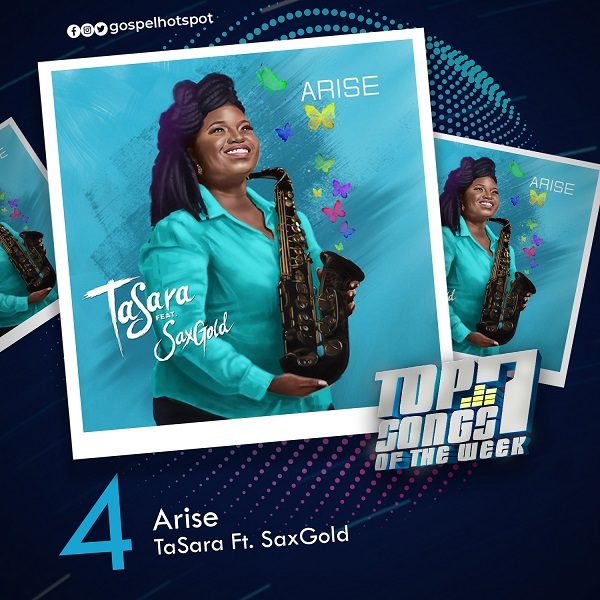 Award winning female saxophonist TaSara shares new single 'Arise' featuring SaxGold and produced by Atta Otigba.
"Arise" is a song of Hope inspired by Isaiah 60:1-3, "Arise, shine, for your light has come, and the glory of the Lord rises upon you…" This song encourages everyone to arise and be all God called, planned, and designed for them to be.
3. Jesus Manifest – Ngozi Ugochukwu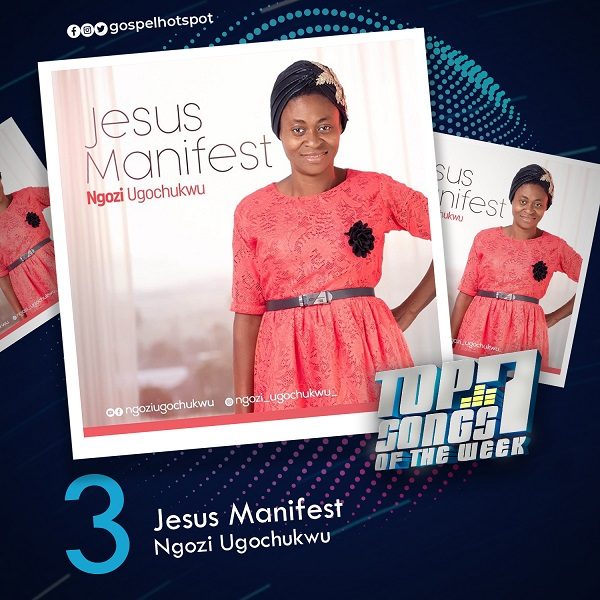 Nigerian gospel artiste and minister, Ngozi Ugochukwu has released her much-awaited debut single titled "Jesus Manifest".
The song expresses the singer's heartfelt desire for more of God. It's also a clarion call for the manifestation of His (God's) power in our lives, and the world in these times.
2. Chain Breaker – Adaora Ft. Moses Bliss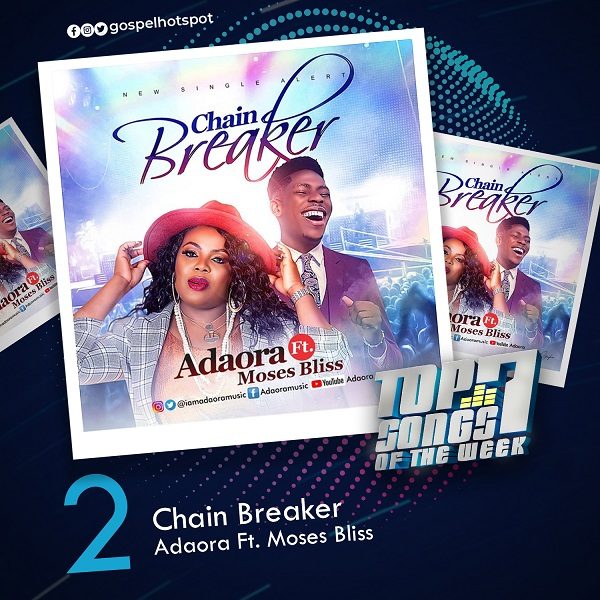 You thought Adaora was done, well, she is not. Oh yes, here is another banger from a very diverse artist. If you think "I Can" featuring Papa San, or "I Come (remix)", or "My African Praise" featuring Peter Tobe is good? Then you are in for a treat with "Chain Breaker," a contemporary Christian indie rock gospel song featuring Moses Bliss, and produced by Peter Tobe.
1. Ire Iran – Adeyinka Alaseyori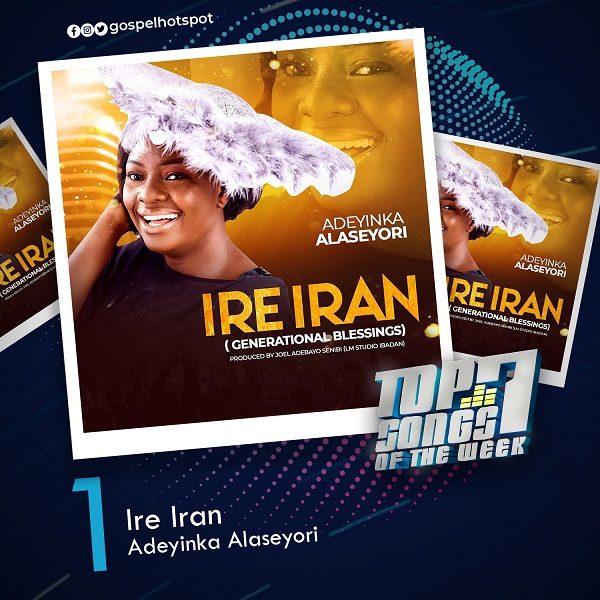 Fast rising indigenous Nigerian Gospel music minister, Adeyinka Alaseyori releases yet again another soul stirring song titled "Ire Iran" .
Adeyinka illustrates her new song as not just a song but a prayer request. "This particular one spurs out the prayer warrior in me to the areas I have not been paying attention to".
---
Did We Miss A Hit Song? Do you not agree with our listing? Add Your Voice, Leave Comments Below
CLICK HERE TO DOWNLOAD NEW GOSPEL SONGS