Yadah Live In Concert & Album Release | 8th August 2021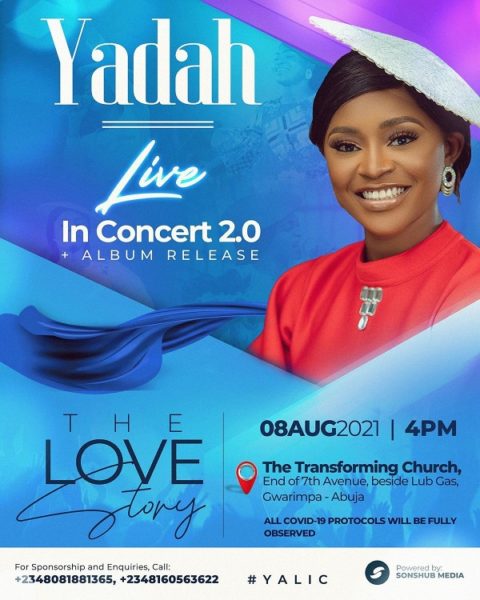 Abuja-based singer and songwriter, Yadah is all ready for the second edition of her Live concert. The concert is coupled with the release of her latest album 'The Love Story'.
Sharing this news with her fans on social media, Yadah wrote: "The Love Story'. Many sounds/songs from one love story as expressed on Calvary's cross. Love unmerited, undeserved!!!. Love poured out freely, with an oath of the lamb's blood. We have a seal that assures us that all that this love promises will come to be. It is the signet, the ring we wear - the Holy Spirit. This story ends with a happily ever after promise and a royal reign on the earth. Anticipate with us, It is an album on the gospel undiluted!!!"
Seasoned gospel singers such as Solomon Lange, Steve Crown and others who are yet to be unveiled will grace the concert with powerful ministrations.
Date: 8th August 2021
Time: 4:00pm
Venue: The Transforming Church, End of 7th Avenue, Beside Lub Gas, Gwarimpa - Abuja.
Yadah is a Nigerian-based singer, songwriter, and fashion designer who kicked off her musical career in 2017 with the release of "Goodie Goodie" which was massively accepted alongside other great songs like "Free of charge" "Nailed", "You fell for me" and Many More.
Yadah has an EP tagged "The Blood Covenant" to her credit and hosts the yearly Yadah Live In Concert (YALIC).