Top 10 Nigerian Gospel Songs Of The Month | May 2021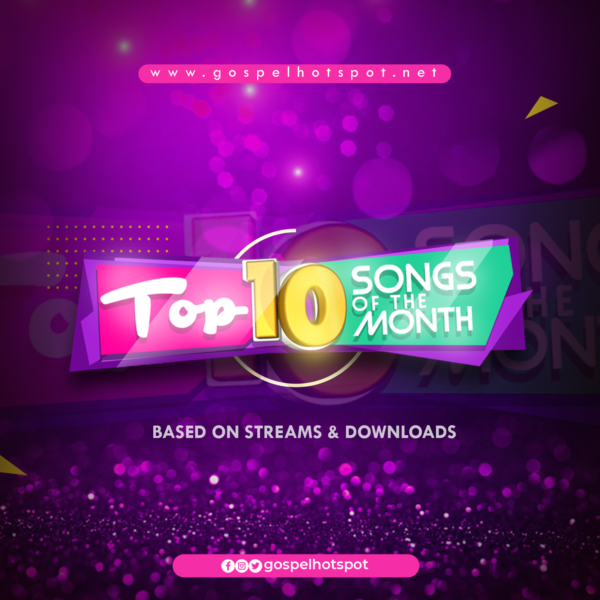 June has been a great month so far and we still hope for greater things! However we still want to recount on the amazing content the month of May gave to us by offering again our Top 10 Nigerian Gospel Songs of the Month, a monthly compilation of of quality Gospel music by different Gospel artistes, each according to their style and genre.
Songs in this playlist includes "Jesu Mi Ga" by Odunayo Akintomide, "Jehovah Overdo" by Minister Chidinma, "In Your Name" by Dare David, featuring Ray Robinson and more.
Update that Gospel music playlist now and put them on REPEAT!
Note: This list was prepared based on the Digital Downloads & Streams statistics from Gospel Hotspot Server.
Below is the Top 10 Nigerian Gospel Songs of the Month for May 2021:
10. Jesu Mi Ga – Odunayo Akintomide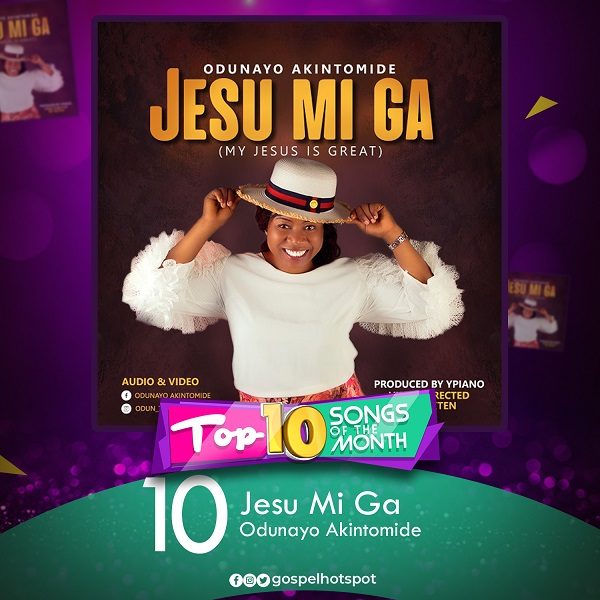 Lagos based Gospel artiste, Odunayo Akintomide releases a brand new single that comes with an audio and it's beautiful visuals, titled – "Jesu Mi Ga".
According to the artiste, 'Jesu Mi Ga' which means "My Jesus is Great" is a high worship song inspired by the Holy Spirit. This song is produced by Ypiano and directed by Lexten.
9. In Your Name – Dare David Ft. Ray Robinson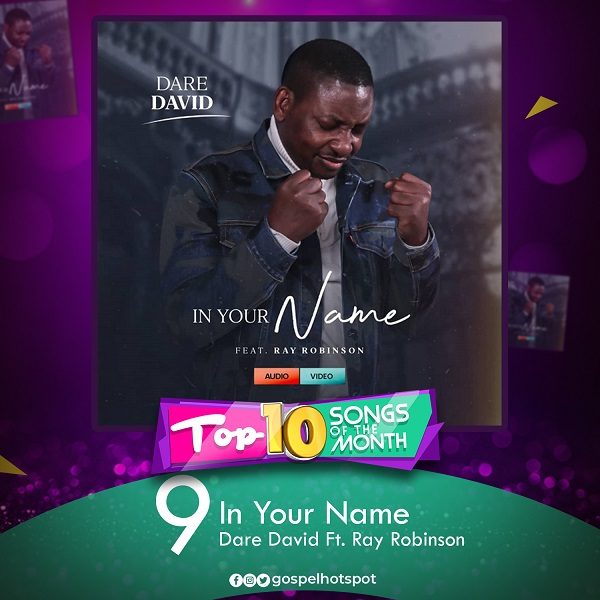 Dare David shares a brand new song and video tagged "In Your Name" featuring Ray Robinson.
"In Your Name" is released to commemorate and celebrate the gift of life, Minister Dare holds nothing back in expressing the amazing power in the name of Jesus.
The song which sits comfortably in the 6-track on the sophomore live album features the amazing voice and dexterity of Ray Robinson.
8. Lord I'm Available – Profit Okebe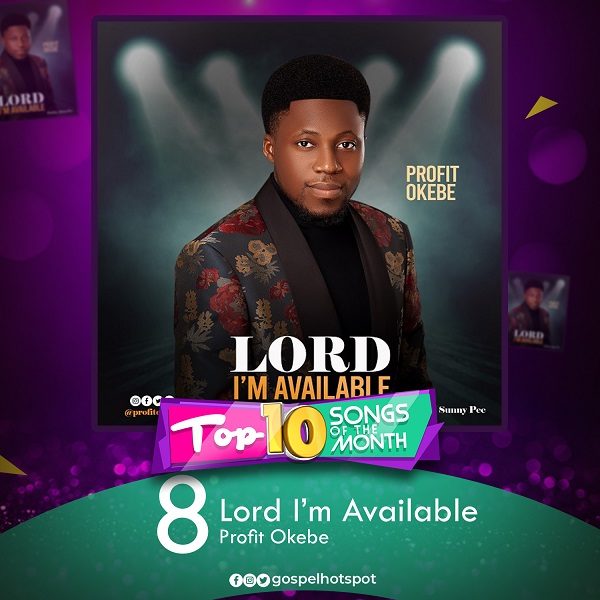 Gospel music and recording artiste, Profit Okebe drops a brand new song accompanied with a video titled "Lord I'm Available".
"Lord I'm Available" is birthed from a place of deep yearning for the fullness of God in a man. It is a song of consecration, passion, hunger and inspired by the Holy Spirit.
Profit Okebe is a praise and worship leader at the Dunamis International Gospel Centre Headquarters, Abuja, Nigeria.
7. This God – Paul Praize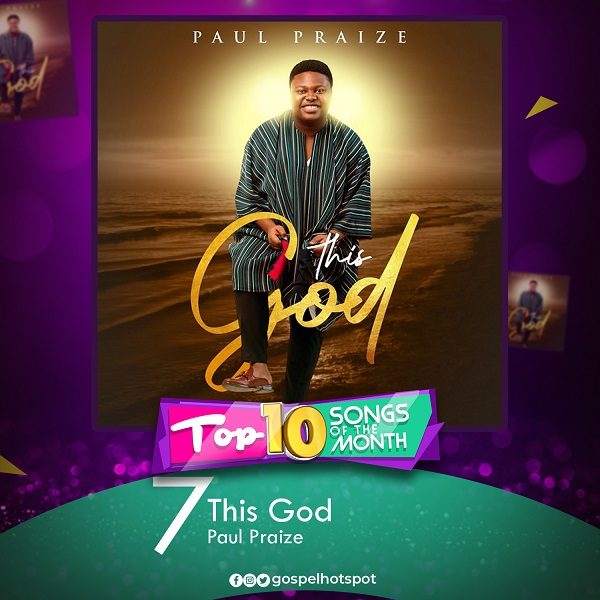 Ukraine based recording artiste Paul Praize is dishing out a sweet melodic rhythm in 'This God'.
The new sound released to mark his birthday is a blend of jazz and afro fusion. The song emphasizes the great things only God can do. His wonderful works and uncountable blessings. The afro and pidgin delivery of the song will definitely hit differently and become a constant rotation on your playlist.
6. Holy Ghost – Abbey Ojomu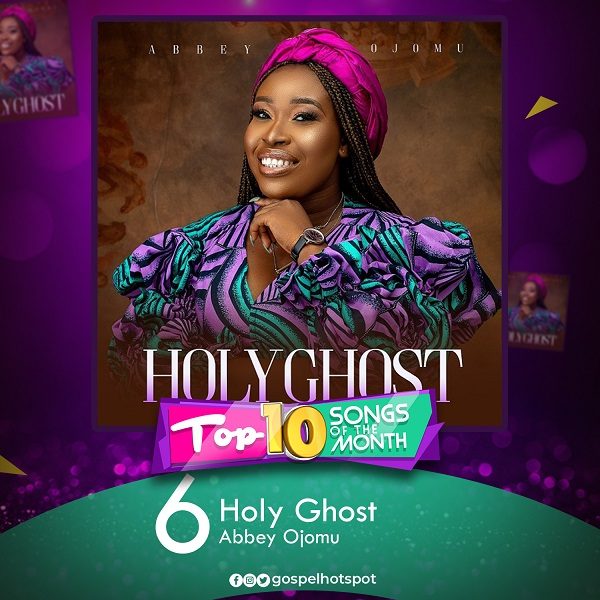 Gospel music minister Abbey Ojomu debuts with the new single dedicated to the 3rd person of the Trinity, she aptly titles this one "Holy Ghost."
The song is a stirring, calling on the manifest presence of God, in recognition of the power that is at work in us and the endless possibilities it offers. It is a contemporary worship with a difference, touching the very essence of existence of man.
5. My Defender – FrankieSong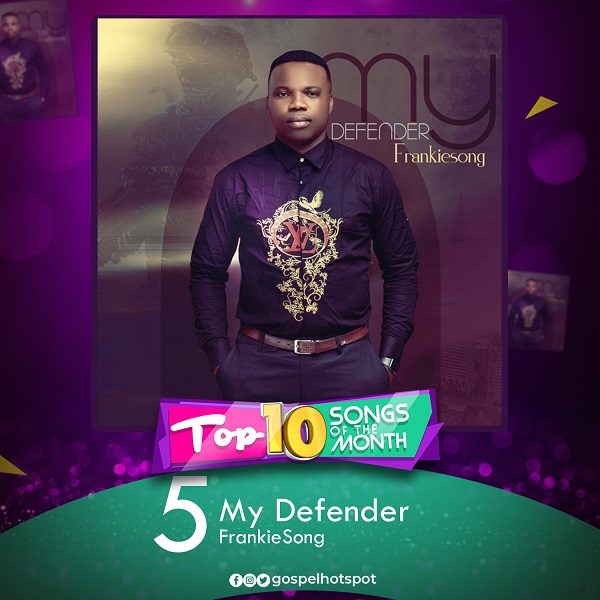 Gospel music minister FrankieSong comes with yet another release for the year 2021. He titles this one "My Defender."
It is a Contemporary Worship single which emphasizes the truth of man's sustenance. Without God, man is vulnerable. There is a God-size vacuole in every man and until we allow Him to fill it, we cannot function in our supernatural capacity.
4. People Of Light – Ritasoul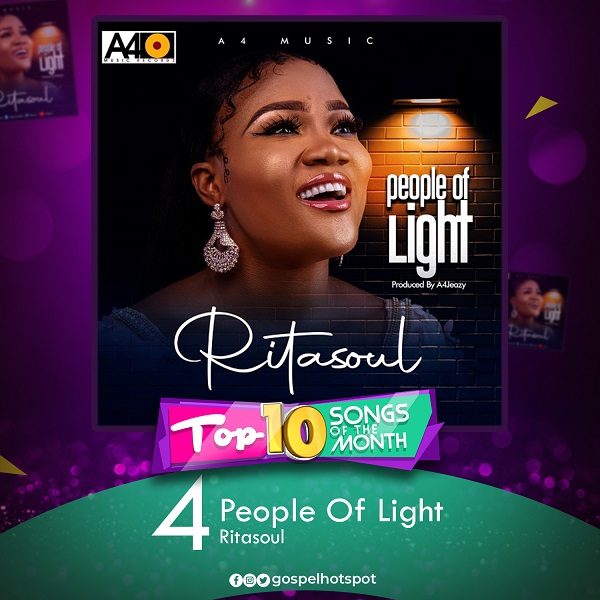 ust like the title goes, "People Of Light" is an unapologetic anthem, with Ritasoul soulful scaling through the beautifully crafted soundscape, delivering an applaudable vocal performance and ministration guaranteed to bless the listener(s).
3. Mercy – Oluyinka Iyanda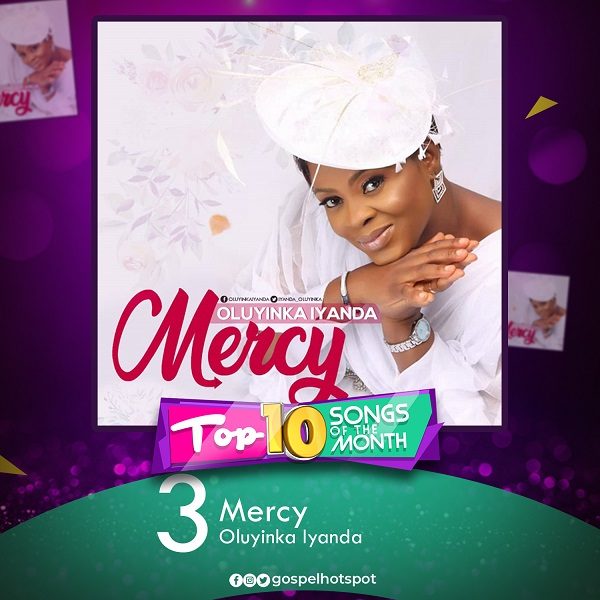 Vibrant Gospel music minister, Oluyinka Iyanda finally releases her much anticipated single – "Mercy".
'Mercy' is a powerful song that speaks about God's mercy. So then, it does not depend on man's desire or effort, but on God's Mercy. This single is produced by Tyanx at Desourcestudio.
2. Faithful God – Onos Ariyo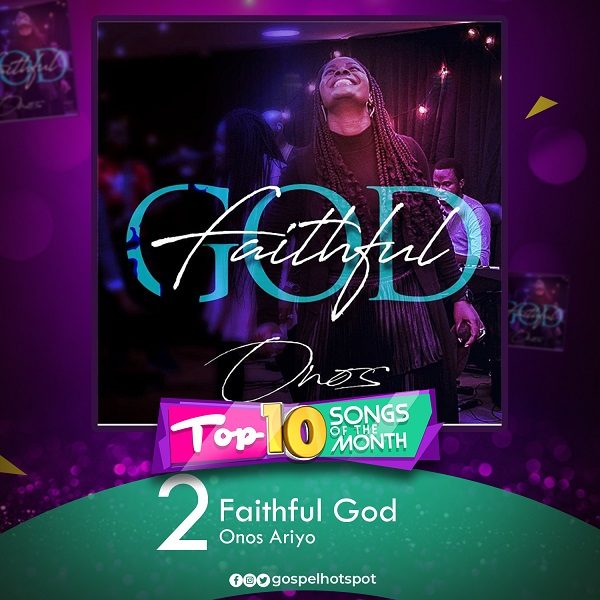 Gospel Music Maestro, song writer and veteran music coach Onos Ariyo blesses the body of Christ with the release of her new single titled "Faithful God'.
1. Jehovah Overdo – Chidinma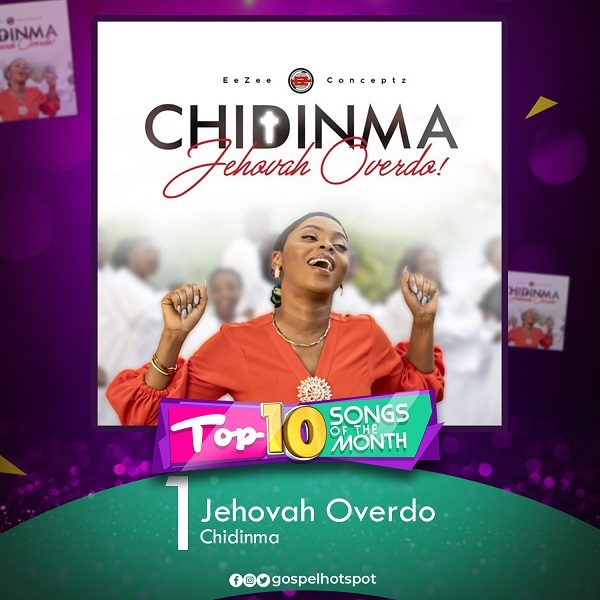 EeZee Global Ministry is now releasing the first single under the label for Chidinma titled "Jehovah Overdo".
"Jehovah Overdo" is a mellow groovy song of praise that testifies to God's great works in our lives. The song is written & inspired by the Holy spirit and personal life experiences; it is hence sung with befitting passion. "Jehovah Overdo" is produced by the production team at EeZee Conceptz Global led by multiple award winning producer, EeZee Tee.
---
Did We Miss A Hit Song? Do you not agree with our listing? Add Your Voice, Leave Comments Below