Pastor Paul Adefarasin And His Wife Celebrates 26 Years Wedding Anniversary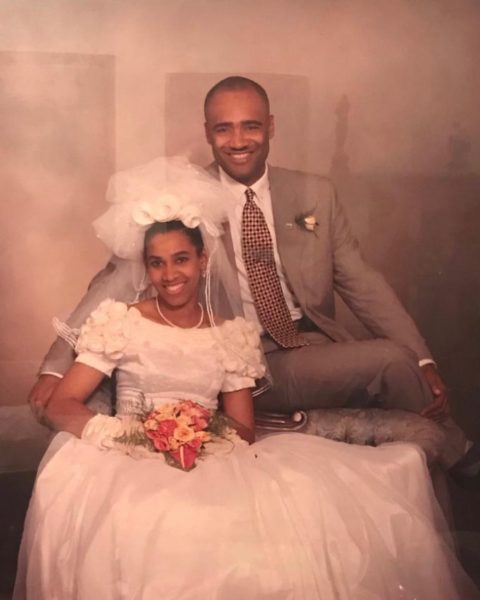 The founder and senior of the House On The Rock Church, Pastor Paul Adefarasin, and his wife Pastor Ifeanyi Adefarasin, are celebrating 26 years of marriage today.
The anointed couple are celebrating 26 years of being together in a loving union. Friends and family of the couple have taken out time to celebrate with them on their 26th wedding anniversary.
The couple who have touched life's with their ministry through the years could not hide joy and love for each other. Pastor Paul Adefarasin, in celebration of 26 years of their marriage penned down an emotional note for his wife Ifeanyi Adefarasin.
Pastor Paul Adefarasin described his wife as a woman with a gracious, and loving wife. He stated that Ifeanyi Adefarasin has being a firm and steadfast friend to him; a consulate mother and intercessor.
He narrated how they have both overcome dangers through the years, with the grace of God. He thereby wished himself and his wife a happy 26th wedding anniversary.
In his words:
Dear Ifeanyi,
"Through many dangers toils and snares, we have already come"
''Twas Grace that brought us safe thus far and Grace will lead us on"
"His promises are good to us, His words our hopes secured."
Thank you for being the gracious heart that you are, the steadfast rock, ...the loving wife, ...the consummate mother to our family and fold.
Thank you for being the firm and steadfast friend through thick and thin; …the faithful intercessor when things seemed dim ...the unflinching lover of my soul and the oft wind in my sails, ...still waters and calming seas beside which I have reposed my laboured limbs and where my wearied soul found rest when each day & its duty was done.
Through the days, through the weeks, through the months, through the years, the decades and now through the quarter centuries, you epitomise this all and much more. Happy 26th Anniversary to us -my star from your star".
His wife, Pastor Ifeanyi Adefarasin, appreciated him for his love, friendship, commitment, and dependability. She also appreciated him for being his real person, a father to her children and her husband.
In her words: "Thank you for your love and friendship.
Thank you for your commitment and dependability.
Thank you for your leadership and guidance.
Thank you for being the amazing person that you are.
Thank you for being you.
Thank you for being the father to my children and my husband.
Thank you for the past 26 years."
The couple also shared their wedding pictures, of 26 years ago, and pictures of their children together when they were still young.