[Music + Video] Yin O (Praise You) By Remilekun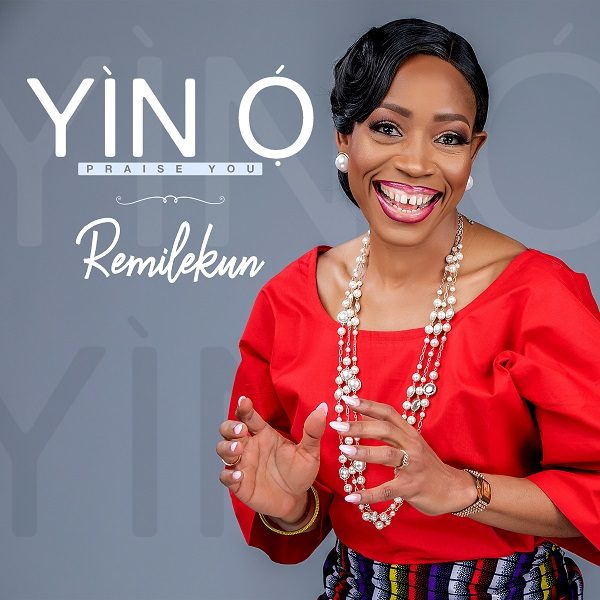 UK Based Contemporary Gospel Artist, Remilekun has dropped the audio and visuals for her new single, "Yin O (Praise You) Medley - a unique blend of new praise thanksgiving medley, produced by ace music maestro, Wole Oni. The Video was shot and directed by Dr Seth Olaniyi in the United Kingdom.
Speaking about the song, Remilekun shares: "During the Covid-19 pandemic lock down and even now as it is being eased down, many people have experienced loss, anxiety, depression and mental struggles.
This is a medley of thanksgiving songs expressing gratitude to God for His divine intervention and breakthrough when faced with life's trials. The visuals have been carefully designed for diversity and inclusion showcasing that these trials are common to all regardless of race or gender and God remains lovingly the same irrespective of who we are. Hope it gives you a reason to dance, rejoice and take those positive steps forward"
The song is now available on Youtube, Boomplay, Itunes, Spotify and all online digital stores.
Watch Video & Download Audio Below;
Stream & Download Audio Below;
Spotify | Apple Music | Boomplay
About Remilekun
Remilekun was recognised as a talented singer at a very tender age, known for singing covers from Indian blockbuster movies and hymns at daily family prayers. Remilekun naturally evolved into leading Christmas carols, plays, cultural songs and dances at primary school events. She excelled in these activities and became an established lead. She continued leading major events when she began secondary school, leading the presentation to the King of Ogbomosho, Oyo State, Nigeria. While at secondary school, she performed in school music concerts and recorded a group choir album.
Remilekun has led choirs of different sizes and flavours and has always participated in a choir wherever she has lived. At University, while studying Chemical Engineering, she was a two-tenure lead of the praise team for the most populous Christian fellowship on campus and the Choir Leader for the Fellowship of Christian Students (FCS), leading a group of ninety members which increased to about two hundred within that tenure.
At the time, many students were inspired to join the choir. She won campus awards as the Most Valuable Soloist (female), Best Praise Worship Leader (female) and Best Choir on Campus for her team. Remilekun institutionalised music concerts whenever she had the opportunity to lead. She inspired and influenced her university choir to organise a live recorded concert in the year 2000.
She went on to lead several choirs in her home church in Nigeria and in London. Remilekun was privileged to mobilise and lead a community choir in Kent, England and was also a Worship Leader in a music and drama group; "The Ancient Landmark", renowned for creating original plays and song writing. She founded a much beloved teen choir in London, providing mentorship and support to aspiring musicians. She organised several worship concerts that influenced the music department and were major sources of inspiration. She is currently a worship leader in her home church. Her music is a blend of genres that transcend a specific category, with flavours from diverse traditions.
The fifth of seven children, Remilekun was raised by a single mother, who taught her how to deal with life's ordeal creatively and courageously. This was a tough experience, through which she learnt perseverance, resilience, contentment and to rise in the face of storms. One phrase resonates with the teams Remilekun has led…. "We have done the things we never knew we could do".
Her debut release, Rising High, reveals this message. Her songs are a blend of gospel and inspirational music. She is the founder of Remilekun Hope Foundation, a charity organisation with a vision to support the less privileged with priorities for girls, children and vulnerable women.