[ALBUM] The Drunken Masters By Snatcha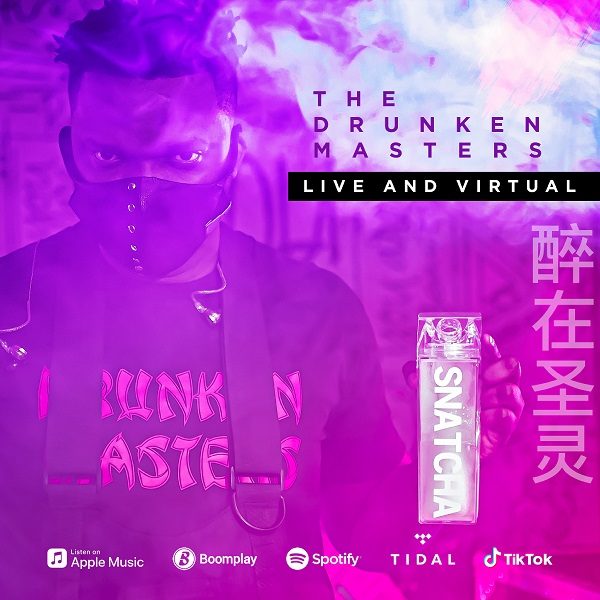 UK based Award winning Rap Icon, Snatcha of the Rooftop Mcs fame has released his Live Virtual album, "The Drunken Masters" from his 3rd headline concert.
Expertly delivered in Snatcha's ecclectic style with a Live band, The 14 track album includes hit singles such as "Tear The Roof Off", "All the Every", "Mighty God (Drunk'n Worship)", Everything" and more.
The concert was recorded Live at Icon Towers, United Kingdom with supporting Artist, Nikki Laoye and the Usual Suspects Band. The Audio was recorded, mixed and mastered by Calvin Gudu.
All the songs from the virtual concert are now available on all streaming platforms - Apple Music, Spotify, Boomplay, Deezer.
CLICK TO DOWNLOAD ALBUM: SPOTIFY | APPLE MUSIC | BOOMPLAY |
About Snatcha
Snatcha is one half of the Legendary Multi Award winning Rap duo, Rooftop Mcs.
His musical style is experimental hiphop fusing alternative rock with Afro influences and he is set to dominate the music scene with original sounds, uplifting lyrics and breath mints for fans who scream too often.
His solo discography includes the album, "The Value of Nothing"and top charting singles - "Children of God" featuring Angeloh; "Everything", "Reign", "Shame" feat. Ayoola, "Light" & "All the Every" featuring Mike Abdul.
Now based in the UK, Snatcha is a 4 time AGMA award winner in the United Kingdom for Hip Hop and Afro Pop Gospel.