[Video] Who You Are - Tinuade Ft. Preye Odede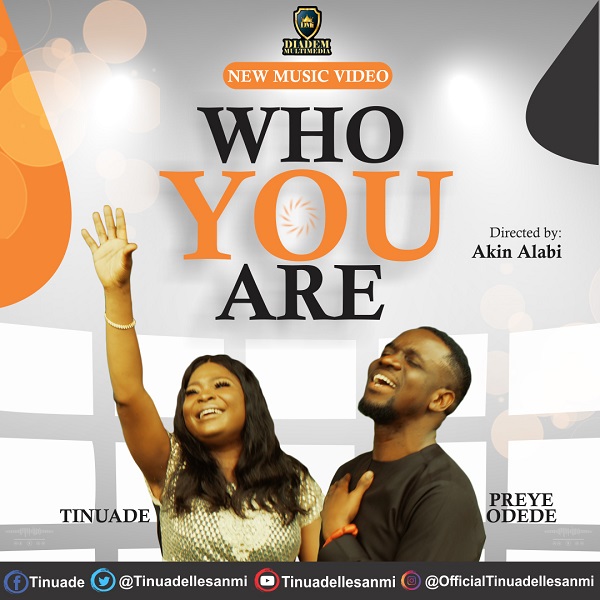 Diadem Records presents the official music video to Tinuade single titled 'Who You Are', Directed by Akin Alabi.
Tinuade enlisted the expertise of Script Music head honcho, Preye Odede to make the Afrocentric song an outstanding effort.
The song was released April 2020 and still trending, blessing life's across all platforms.
"In such a time like this, God remains the answer the world needs. He is the solution that melts all fear and confusion. I pray He will create a pathway of escape for you in time of trouble, He will hide you from the flood and plagues of life. Mighty is our God!" - Tinuade
Watch Video Below;
About Tinuade
Tinuade Ilesanmi is a lover of God and all He represents, a songwriter, music minister, praise and worship leader. Her humility and meekness has always proven her worthy to secure all the great blessings which God has entrusted to her despite her will and they have flourished, and her music is not left out as she keeps commanding leading results in every platform and different stages of her ministration.
Tinuade Ilesanmi is given a mandate by God to usher His people into His presence in sincere heart of praise and worship. Her life and her family is a testimony which has always been a sole inspiration and motivation to her act of worship, her lyrics are soul lifting and mind elevating, her sound comes from a refined heart as an acceptable offering.
At 9 her journey through singing started in her home church choir, the essence of worship aroused deeply in her during her higher institution days when she gave her life to Christ, and then the singing of Gospel music became her expression. She joined NIFES (Nigeria Fellowship of Evangelical Students) choir and served there until she graduated, she also had the privilege of been part of the music team of Nigeria Youth for Christ, since then by the help of God she has served in various music groups and presently serving with her church choir at Living Faith Church and also part of the newest move in the City of Port harcourt, The Colt of Diamonds which holds the monthly Voice of Worship (VOW) online worship. By God's election she recently signed to the label of Diadem records as a Gospel Artist, and has ongoing projects yet to be out soon.
Tinuade is a graduate of Urban and Regional Planning, graciously married to Ilesanmi Adekunle and they are blessed with 3 adorable children. She currently works as Director at Diadem Multimedia International. She hails from Ogotun Ekiti, but presently resides with her family in Port Harcourt.