[Video] Jesus Oga Nla - Idowu Eyin Ft. Mike Abdul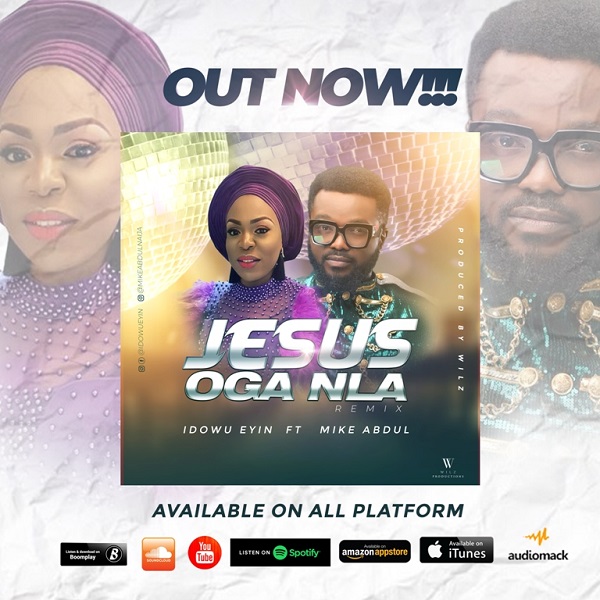 Singer-songwriter, mum and gospel recording artiste - Idowu Eyin releases her brand new single titled - ''Jesus Oga Nla'' (Remix).
Her single Jesus Oga Nla debuted in 2016 and even successfully gained recognition from IMDb (Internet movie database board).
Here's the remix which features the multi talented and award winning Mike Abdul.
Watch Video & Download Audio Below;
About Idowu Eyin
Idowu Eyin started to sing in the choir when she was 12years old and since then developed a strong passion for praise and worship. She was called, equipped and released by God to do His work firstly as a worshipper and then as a songwriter, vocalist and a versatile gospel recording artist.
She can be described as seemingly different as her style is a blend of contemporary, Afro juju, funk, and soul . She is blessed with a strong unique husky voice tone. She is married to Dr Gilbert Eyin. They are blessed with two lovely sons and Emmanuel and Elijah.
Aside from this, she is a charitable person who gives without expecting any returns. She sees the need to help suffering and deprived children all over the world. She also campaigned for the fight against cancer. She has used her music to contribute to this effect. Idowu gives back a certain percentage of her revenue to her chosen charities.
She has a passion for hair and beauty and has also been able to use this to support the campaign against cancer by donating wigs annually to women who survived the deadly sickness.
Idowu desires to proclaim the name of Jesus as the only true God.